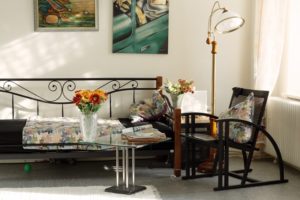 Exposed lighting, bright furniture, and matching wallpapers were a few trends that topped the 2018 home décor ideas. Since the start of 2019, a lot of designs, furniture styles, and trends have changed. Home décor is something everyone participates in. All of us want to decorate our homes the way we like it. Some people go to a whole new level while planning for home décor. However, a little more can look awkward.
Home décor and interior designing is a favorite hobby of some people. However, without knowing the latest trends and styles in the industry, it can become a considerable ask to decorate your home in a stylish, elegant, and yet simple way. Check out some of the home décor trends of 2019 that are fresh, stylish, and affordable. Make your home look brand new with these trends and styles of 2019.
Velvet Furnishing
The old trend of velvet furniture is growing again and regaining its spot as the top home décor trend. In 2019, bright velvet furniture is making its way in the market, and interior designers are putting their money in everything that has a touch of velvet. Thought velvet furniture looks old school, it is, however the top trend of 2019. So if you are planning to reinvest in your furniture, then it's an excellent choice to check out some of these funky velvet sofa sets.
Light Finish
In 2019, fashion industry experts and interior designers are getting back to a light finish. Many furniture companies are making furniture in lighter shades and dull tones. However, the elegance of lighter furniture can be blended perfectly with your favorite walnut couch. All you need to do is to sort the balance, and you are safe to do a few experiments.
Biophilia
Although this word sounds like some science that only geeks are meant to understand, it isn't. Biophilia is one of the emerging trends of 2019 in home décor and interior designing. Human beings are getting attached to nature once again, and this time, we have adopted a new way to do so.
"Opportunities for custom millwork and crafted material is significant," said Angie Lee of FX Collaborative. According to her, wooden floors and stonework are going to get their popularity back in 2019. We think the same. With a bit of innovation and smart thinking, you could do a fantastic job with your house.
Feminine Look
This does sound crazy but feminism has left its impact on the home décor industry as well. Feminine shades and a feminine look of rooms are a brand new trend in interior designing. This might seem suitable only for feminists. However, there is no harm in trying out some of the shy colors like pink, bronze, and blush in your rooms. The end design will be intriguing and attractive.
The Bolder it is, the better
This is the motto behind interior designing and crafting furniture for 2019. One of the latest trends of 2019 in home décor is about richer colors and bolder palettes. Although, bold colors make a room looks filled, however, this is an increasing trend and people are adopting it like crazy. Get ready to see some funky, stylish, and dramatic furniture in bold colors of red, green, and even purple.